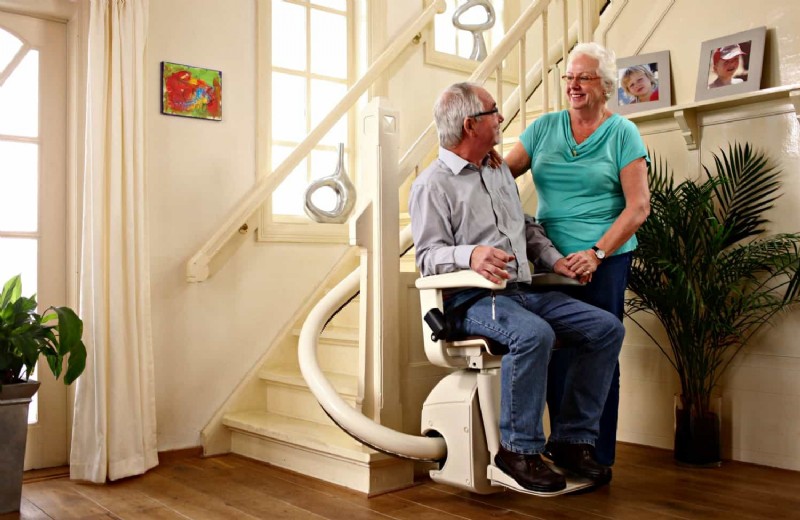 Curved Stair Lifts
Handicare Freecurve Curved Stair Lift
The Handicare Freecurve is a single-tube style curved stair lift that offers a number of innovative features to ensure the lift is built specifically for the curves and turns of your staircase. Unlike other curved models, the Freecurve offers a turn and go option, thus allowing it to be built on the narrowest of staircases.
Installation
To ensure an exact fit on your staircase, we use a photo survey system to take pictures of your staircase. The measurements are then uploaded into our system and then transferred into an "instant look" at how the lift will look on your stairs. This gives you the ability to see how the rail will look on your staircase before we install it in your home!
This unique model has three color rail options and seat styles, enabling you to match the lift to your home design and decor.
Features
Weight capacity: 275 lbs
Comes with 2 wireless remotes – lift is always within arm's reach!
Top & bottom charge contacts – lift charges when not in use
Retractable seat belt to keep the user safe while riding the lift
Manual swivel seat enables the user to get on and off the lift safely
Unique single-rail curved system
Key switch to prevent unauthorized use
Choice of rail color to fit in with your home decor: Brown, Gray, or Ivory
3 available seat options: Alliance, Classic, or Elegance
Safety sensors will stop the lift if anything is detected in its path
Soft start/stop and smooth, gentle ride
Optional Features
Power Swivel Seat: Perfect for users who are unable to manually swivel away from the stairs
Active Seat: Lift & and tilt mechanism that provides support for the user when getting in and out of the chair
Turn & Go: Perfect if you have the narrowest of staircases or limited knee flexion
Power Folding Footrest: Footrest automatically folds up after the seat is folded up
Larger Footrest: Provides more space to rest your feet while riding up or down the stairs
Standard Illuminated Footrest: LEDs turn on for additional safety when it's dark
Power Folding Rail: Rail automatically folds up to create space in narrow doorways and hallways
Rail Color Customization
Seat Options
Alliance Seat

Available in three different color combos
Combination of wood and leather upholstery
Nice appearance make it fit with any interior design

Classic Seat

Designed by physiotherapists and occupational therapists for great comfort and functionality
Leather-grain finish that is easy to clean
Available in three colors

Elegance Seat

Super-soft upholstery provides great comfort and an elegant design
Elegant design and luxurious feel
Protective layer makes it durable and easy to clean
Adjustable armrests allow for a wider seat if necessary
---
Gallery
---
Improve your mobility with a curved stair lift. Request a free home assessment today!