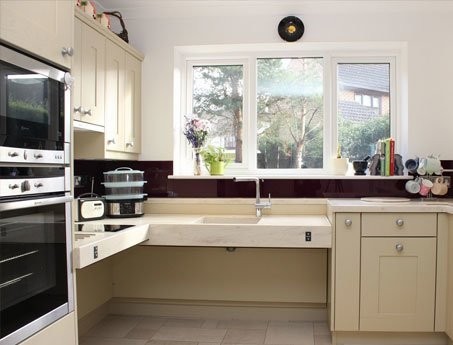 Accessible Additions
Accessible Additions
Room additions come in all shapes and sizes—some are plain and simple and others quite complicated. Regardless of the goal, Lifeway has the knowledge, skill, and experience to create new accessible spaces for your needs. We work closely with architects to design barrier-free environments that allow everyone in your home to be part of the family.
Lifeway has the experience and resources to design and build accessible living spaces. Additions can often allow you to improve the livability of your home and add the extra living space you desire. We can help homeowners design and build additions, and can partner with architects to ensure our customers' accessibility needs are understood and met. Lifeway can take you from blueprints to 2x4s to move-in! With construction managers on staff, we are ready to build your accessible dream home.
Regardless of the scope of the project, careful planning is fundamentally important to the overall success of any construction project. A thoughtfully planned project is much more likely to satisfy your goals, be completed on time, and minimize costly midstream changes. Let Lifeway put our years of experience to work planning your project.
Accessible Kitchen Additions
Using the kitchen is often a frustration for our customers, and we know how to help. Options include accessible door handles and cabinets, roll-under counter tops and cook-tops, and special cabinets designed for accessibility. Lifeway can help make existing kitchens much more usable or can build a complete kitchen addition.
Options Include:
Accessible door handles and cabinets
Roll-under countertops and cook-tops
Slide out shelving
Widened doorways and floor space
Don't let inaccessible rooms keep you from being able to live comfortably in your house. Home accessibility is only a phone call away, and with our free in-home assessments, we can give you a variety of options. Please fill out the form below or call us at (847) 215-9490 to learn more!
---