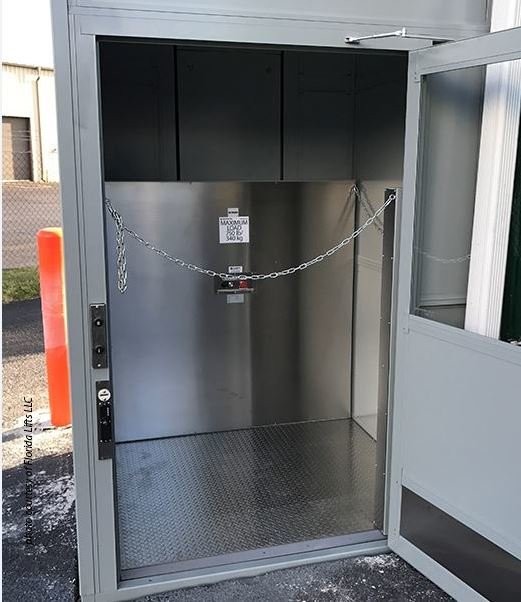 Material Lifts
Material Lifts
A material lift is intended for use inside a shaft way and can be ordered in a choice of standard or custom sized platforms. Landing stations control this freight-only hydraulic lift. There are no controls on the platform. Easier to install than a typical dumbwaiter, a material lift might be the most affordable way to keep your material moving! They are ideal for commercial buildings such as restaurants, banquet halls, retail stores, etc.
The Savaria M-1504 Material Lift is used to carry freight up to 1000 lbs. and travels up to 23 feet with four stops. It has a 60-inch 5WL stainless steel side guards and diamond plate stainless steel flooring, which makes the lift built for durability.
Features
1000 lb. weight capacity – ideal for moving freight such as boxes, wheeled carts, kegs and more
60 in. 5WL stainless steel side guards & diamond plate aluminum flooring for long durability
No machine room is required, making it more space efficient to install than a typical dumbwaiter
Landing control stations at each landing for convenient use
Automatic battery back-up lowering system for safety in case of a power failure
Back-up lowering system
Safety Features:

Integrated landing doors with interlocks for safe operation
Door locks
Standard Cab Sizes Available
Standard height of cab walls: 60" (1524 mm)
Optional height of cab walls: 80" (2031 mm)
36″ x 54″ (914 mm x 1371 mm)
42″ x 60″ (1067 mm x 1524 mm)
48″ x 60″ (1219 mm x 1524 mm)
Cab Access Options
Straight through
On/off same side (In-line)
90 degree adjacent
Other Options
Custom color
Fixed access ramp
Outdoor package
24V battery backup
Remote controller/pump box
Automatic standard operation
---
Improve your mobility. Request a free home assessment today!