Top 7 Fall Prevention Tips
Posted on by Chris Frombach
A slip or fall accident at home is much more likely for those with limited mobility or aging-in-place. According to the Centers for Disease Control and Prevention, over 700,000 people were hospitalized in 2013 due to falls in and around the home¹.
For seniors, 95% of hip fractures are related to a fall, and many of these fractures don't heal the way they should and result in surgeries, nursing home stays, and long-term pain². In 2013 alone, patients and insurance companies paid over $34 billion in direct medical costs related to falls and subsequent treatment¹. Fortunately, there are some easy home safety steps and solutions you can take to minimize these risks and help elderly loved ones remain living in their home safely.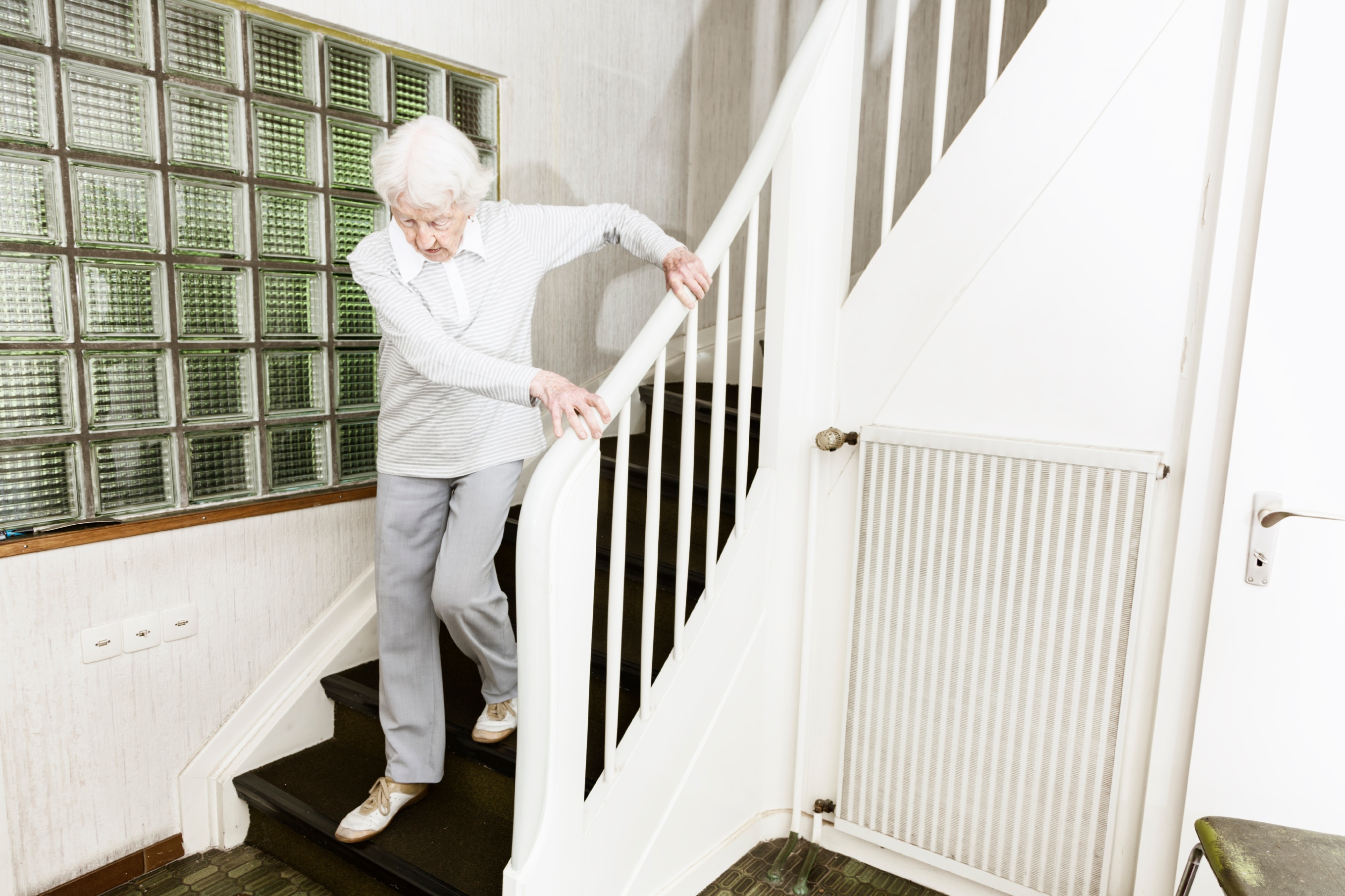 1. Remove Trip Hazards
Remove throw rugs and other items on the ground that can be a tripping hazard. Keep hallways and entryways clear of clutter. Also be sure to remove smaller items from the floor; these items may seem insignificant but can go undetected, causing a fall.
2. Ensure Adequate Lighting
Dim lighting conditions around the home can mask items such as rugs or small piece of furniture that can cause a fall. Newer LED lighting technology has combined brighter bulbs with energy efficiency and longer life to make changing them less frequent.
3. Get a Checkup
Be sure that aging loved ones visit their primary care physician annually to discuss any changes with their health, no matter how small they might seem. Changes in eyesight, newly diagnosed diabetes, or increased swelling can all have a major impact on mobility.
4. Review Your Environment
Walk around your home with your loved one, being conscious of what is around and how they move. Is their natural instinct to reach for a particular side of the stairs when going up or down? Are the railings secured to one or both sides? Does your loved one feel/look secure in the bathroom when using the toilet or tub? Our home assessment specialists would be happy to provide a home safety evaluation to help determine where these changes should be made.
5. Eliminate Steps
Stairs and door thresholds can be one of the biggest contributors to falls in the home. One solution is to install an entry or threshold ramp to provide a safe means of navigating uneven household surfaces such as small steps and doorways. Railings and grab bars can also offer a solution to those who may need a little extra support moving throughout their home. After an aging loved one is discharged from the hospital, many doctors advise caregivers to install a ramp, handrails, or grab bars to help protect the patient's health and safety once back in their own home.
6. Get Balanced
Working on balance, coordination, and strength can make a difference in one's mobility as well. Too little of any of these will make it more difficult to regain balance if a fall does start to occur. Before starting any type of exercise or strength building program, aging loved ones should first consult their doctor.
7. Wear Sensible Footwear
We all have them...that favorite pair of shoes that feels like they were molded directly to your foot. However, they could be doing more harm than good. Shoes that are too worn out can have slippery soles or inadequate arch support. Elderly loved ones or those with limited mobility should look for shoes that have good traction and proper support for better stability.
---
Nobody can do everything on their own. Even if your loved one has been independent all their life, encourage he or she to request assistance if needed. As a child, caregiver, or friend, make it a point to observe and offer help as needed. Following these simple steps can make sure that your loved one can remain as safe as possible at home and out of a nursing home.
The Centers for Disease Control have some useful information on how to reduce the risk of falls at home for older adults. Click here for brochures, exercises, and tips.
Interested in a free home evaluation to ensure every room in a loved one's home is safe and accessible?


¹ http://www.cdc.gov/homeandrecreationalsafety/falls/fallcost.html
² http://www.cdc.gov/homeandrecreationalsafety/falls/adulthipfx.html
---
---
---
Improve your mobility. Request a free home assessment today!