How Accessible Bathroom Modifications Can Improve Your Life!
Posted on by Eric Rubel
Helena and Jeff currently reside with their daughter in a nearby Chicago suburb. Helena faces a medical condition that limits her mobility and is expected to worsen over time. With that in mind, they decided to look into making their master bathroom fully wheelchair accessible in preparation.
Helena and Jeff contacted EHLS after a thorough internet search. They were inquiring about bathroom modifications and EHLS was happy to schedule a free in-home assessment. They met with one of our CAPS Certified Accessibility Specialists, Bob, to discuss their options. After considering other home accessibility companies and handyman alternatives, they decided to move forward with EHLS. To quote Jeff, "We got the level of expertise, we got the level of skill, and we got the level of professionalism that we expected."

Bob urged Jeff and Helena to not simply consider the challenges facing her today but to consider the ones in the future as well. Together they decided on a complete bathroom makeover including widened doorways, a roll-under sink, and a roll-in shower. They also decided to modify their walk-in closet which is next to the bathroom. By moving the closet wall in, it created more room to move about the bathroom. EHLS also transformed their closet into a wheelchair accessible space with all of Helena's clothing easily in reach.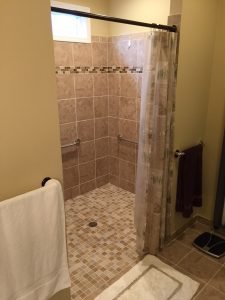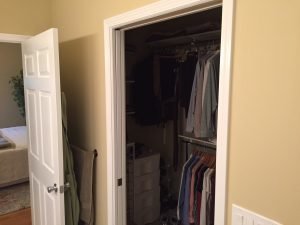 During the project itself, Helena and Jeff worked closely with our construction crews as well as one of our construction managers, Mark. Mark was with them every step of the way from explaining plans in detail to joining in on trips to Home Depot to pick tile and other design options.

Checking in one month later, Helena and Jeff couldn't be happier. The new bathroom has created tons of space even when both are using it. Although Helena is still mobile, the planning ahead has created peace of mind knowing she can stay in the home she loves. EHLS could not be prouder to have helped!

If you would like to see and hear Jeff and Helena's video testimonial click here: https://www.youtube.com/watch?v=reyGlq_XMyA


---
---
Improve your mobility. Request a free home assessment today!