Holiday Home Access
Posted on by John Burfield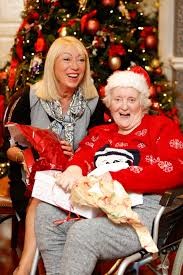 For those who are hosting family and friends in your home this holiday season, you may want to consider increasing your home's visitability. The term visitibility refers to homes designed so that that it can be visited by people with mobility issues who may use aides such as wheelchairs or walkers. Visitability is a growing trend nationwide, and has 3 basic requirements.
At least one zero-step entrance
Doors with 32 inches of clear passage space
One bathroom on the main floor you can get into in a wheelchair
While you may not be able to add a bathroom prior to your guest's arrival, there are things that can be done to improve your home's visitability. They include:
Clear wide passages and salt/sand driveways and walkways
Remove all area rugs for duration of visit
Rent a ramp(s) for easy access to stairs or thresholds
Install grab bars or a Super Pole for balance and stability
Rent a commode for guest bedroom or a toilet seat riser for bathroom if necessary
Add extra lights or night lights for visibility
---
---
---
Improve your mobility. Request a free home assessment today!