Does Insurance or Medicare Cover Stair Lifts?
Posted on by John Burfield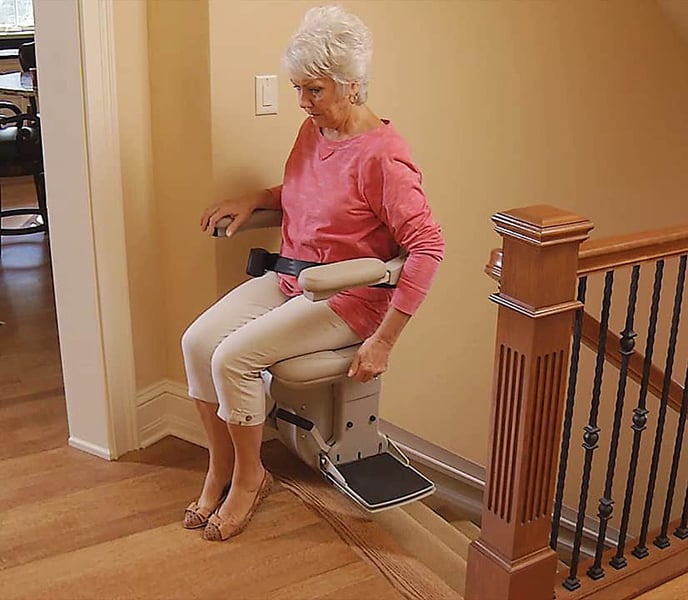 If you're in the market for a stair lift, you may be wondering if your health insurance or Medicare coverage will pay the cost. Unfortunately, standard health insurance policies and Medicare will not typically cover the purchase or installation of a stair lift, even with a doctor's order.
The cost of a straight rail stair lift is typically around $2,200 to $8,500 with installation based upon the make and model. A custom curved rail stair lift will likely start around $11,300. If these prices are out of your budget, there may be funding options available to you other than your health insurance policy.
Learn more about stair lift pricing
Medicaid Waivers
Many states such as Minnesota and Connecticut offer Medicaid home and community-based waiver programs that will often cover the cost of home modifications such as a stair lift. To qualify for these waivers, you typically need to meet the income criteria to receive Medical Assistance from your state. However, state requirements and available funding will vary, so it is recommended that you contact your state's Department of Health and Human Services to learn more about what is available in your region.
To locate information on your state's waiver programs, click here.
Alternative Insurance Coverage
While health insurance policies rarely cover home modifications, some auto insurance policies, worker's compensation programs, state catastrophic accident insurance plans, or medical trust funds will pay for home modifications, especially if the disability was caused by an accident or injury. Long-term care policies may also cover seniors. Some policies allow individuals to use benefits to cover home modifications if it means the beneficiary can avoid entering an assisted living facility or nursing home.
Home Improvement Loans
In some regions, home improvement micro loans such as the Minnesota Housing and Finance Agency Fix-up Fund and The People's Bank/Connecticut Housing Investment Fund, Inc. (CHIF), Home Improvement Loan Program are available.
Typically, these loans offer low fixed-interest rates, friendly repayment terms, no prepayment penalty and lower closing costs and fees than typical home improvement loans. Check with your state housing agencies to see if similar loan products are available in your region.
U.S. Department of Veterans Affairs Housing Grants
Veterans with certain service connected disabilities can apply for housing grants to make their home accessible. These include the Specially Adapted Housing (SAH) Grant and the Special Home Adaptations (SHA) Grant. To see if you qualify, check with your local VA office.
Area Agencies on Aging
Some Area Agencies on Aging may offer home modifications as part of the services that are provided. Depending on the area in which the individual lives, the program may offer home repair and modification services on a sliding scale or free of charge. The Eldercare Locator link will help you find your Area Agency on Aging.
Foundations and Organizations
Private foundations and non-profit organizations such as Rebuilding Together will sometimes provide home modification services. Other organizations such as the MS Society will focus on the needs of people with specific illnesses or disabilities.
Crowdfunding
Crowdfunding or crowdsourcing is the practice of funding a project or venture by raising contributions from many people including family, friends and acquaintances. This is often done using popular crowdfunding websites such as GoFundMe and Kickstarter, but the concept can also be executed through community fundraising events.
Consumer Financing
Some stair lift providers offer financing to qualified buyers in which the stair lift is paid off in monthly payments. Sometimes there will be a down payment required and an interest rate is typically applied to the payments. When contacting stair lift providers, make sure to ask if they offer financing.
Home Equity Conversion Mortgage
Homeowners that are 62 and older may be eligible for a Home Equity Conversion Mortgage (HECM). A HECM enables you to take control of monthly cash flow and can provide a line of credit (LOC) that grows over time. The HECM LOC enables you to draw equity tax free, penalty free, at any time.
HECM features:
No Limit on draw period
No minimum payments required
Lender cannot freeze or reduce loan amount
Home NOT subject to foreclosure unless taxes or insurance is unpaid
Borrowers and their heirs never pay more than the home's fair market value when the loan matures
To learn more,visit: www.thefederalsavingsbank.com/petemendenhall.
Final Thoughts
If you are unable to pay out of pocket for your stair lift, these alternative funding sources might make sense for you. However, it is important to make sure that the funding source you utilize is a legitimate lender or organization. When researching funding sources, look for endorsements or recommendations from reputable organizations such as a state housing agency, area agency on aging, or advocacy group.
---
---